CJ Lang briefs suppliers on sales growth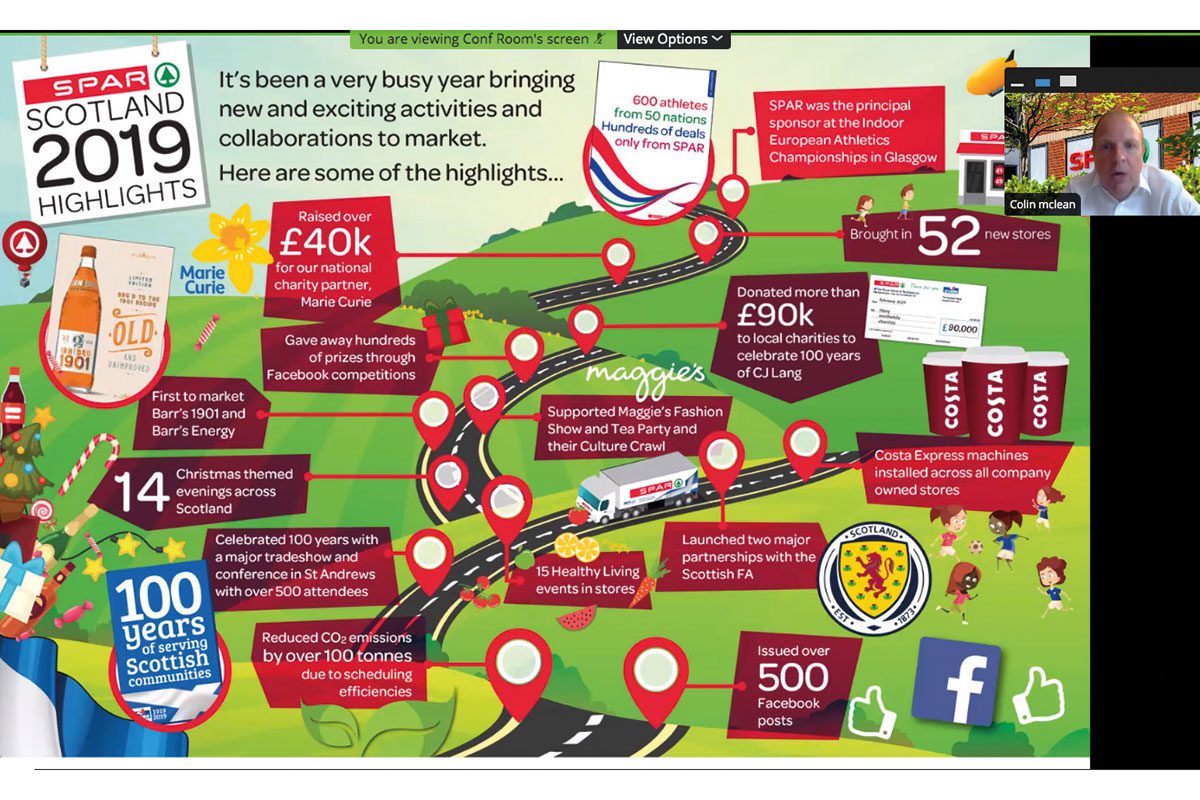 SPAR Scotland wholesaler CJ Lang took its supplier update online last month, with virtual briefings attended by 300 delegates.
The wholesaler provided suppliers with an update on the firm's performance, with positive headline figures.
CJ Lang has been engaged in a business turnaround programme for two years and finance director Craig Tedford highlighted the improvements made so far.
"Over the last twelve months, Spar Scotland has grown both wholesale and retail sales achieving increases significantly above the Scottish market.
"Sales to independent customers have grown by 6% and retail like-for-like sales in company-owned stores have grown by 7% as we develop both our customer and consumer offer," he said.
Paula Middleton, marketing manager at CJ Lang, also highlighted the firm's increased advertising output – including a television campaign with STV and two sponsorship deals with the Scottish Football Association.
Colin McLean, chief executive of CJ Lang, thanked suppliers for their support, particularly during the coronavirus crisis.
"Our suppliers have worked tirelessly with us over the past few months and we are very grateful for their continued support particularly in these challenging times.
"Our number one priority is safety of our staff, customers and suppliers and everyone's ongoing support is very important to us.
Our suppliers have worked tirelessly with us over the past few months and we are very grateful.
CJ Lang's supplier briefing was forced to go digital due to coronavirus lockdown measures.
The wholesaler was forced to postpone its 26 March conference and trade show in Aviemore. CJ Lang is currently reviewing plans to reschedule its conference later this year, with a decision expected at the end of July.
• Last month also saw CJ Lang launch a new click and collect service for trade customers, including independent retailers.
Operating out of the firm's 180,000 square foot distribution centre in Dundee, the service operates seven days per week.
Through click and collect, CJ Lang customers who place an order via the firm's website before 14:30 can collect their order by 18:00 on the same day.
Orders received after the 14:30 cut-off are available for collection the following day.
The click and collect service offers a range of chilled and ambient products and CJ Lang has said it aims to expand the number of products on offer in the coming weeks.
Colin McLean, chief executive of CJ Lang said: "During the pandemic, we have been in a fortunate position to be able to continue supplying our independent Spar retailers with what they need to provide communities with essential items on a daily basis.
"Our distribution team has been doing a phenomenal job and also provided a number of retail businesses outside of the Spar network with product over the past 12 weeks.
"As a result we felt we could expand on this service and provide not only our existing independent Spar retailers with a click and collect service, but also allow other retail trade customers the opportunity to order and collect from our depot in Dundee."