Sharing resources and knowledge top of the agenda at Retailers Against Crime conference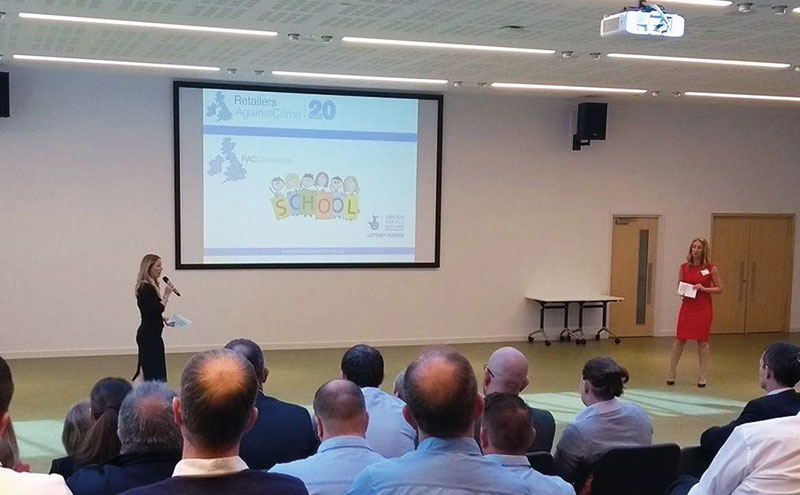 PARTNERSHIP working was the order of the day at the Retailers Against Crime (RAC) conference held at Glasgow Caledonian University on 12 September, with information sharing highlighted as a potential silver bullet in the fight against retail crime.
Coinciding with the 20th anniversary of the formation of Retailers Against Crime, a not-for-profit organisation which aims to reduce incidents of shop crime through information sharing and education, the RAC conference brought together speakers from across the public and private sectors to share ideas.
Speakers on the day included assistant chief constable Wayne Mawson of Police Scotland, cybercrime specialist detective constable Derek Graham, counter terrorism expert DC Simon Broadhurst, Lee D'Arcy of anti-fraud non-profit CIFAS, Scotmid head of profit protection as well as RAC vice chairman Jim McFedries and MD Maxine Fraser.
Addressing the conference, ACC Wayne Mawson, Police Scotland's national lead for acquisitive crime, warned that stores are being targeted by "ever more organised, ever more sophisticated groups", making it vitally important that retailers and police share intelligence to reduce crime.
Mawson said that the information shared through RAC has helped police identify a number of previously unknown suspects, as well as providing intelligence on the patterns of organised criminals targeting retailers and the vehicles used, helping Police Scotland to implement focused disruption tactics against organised gangs and prolific criminals.
Jim McFedries, head of profit protection at Scotmid and RAC vice chairman, outlined how information sharing with various crime-fighting organisations, including Police Scotland, has been of benefit to Scotmid in its bid to tackle retail crime.
"The way forward for us is very much around partnership working," said McFedries.
"We've seen some really good results with partnership working with the police and council around particular problem areas where we can't continue to deal with the same prolific offenders that come in day in day out, not only stealing from us but also threatening our staff.
"I would say RAC is like an intel department that we get on the cheap. If I was to get the same guys in internally I'd be spending a hell of a lot more money than I spend on our membership, that's for sure."
Other speakers on the day included RAC regional executives Gemma Sellar and Stephanie Karté, who explained the steps RAC has taken in partnership with schools, providing education on the cost of retail crime to primary seven pupils.
Marking the 20th anniversary of RAC, MD Maxine Fraser described how the organisation has grown over two decades, expanding the reach of its information sharing network.
"When I started with RAC they had 47 stores. We've got over 1500 today throughout Scotland, Northern Ireland and the north west of England. Northern Ireland started in 2007 because the retailers across there wanted to have the same as we have in Scotland.
"We are not for profit, funded and driven by members and of course our sponsor supporters. Our primary aim is to detect and deter crime including acts of violence, which is really close to our heart," she said.