For festive success don't delay, says Mondelez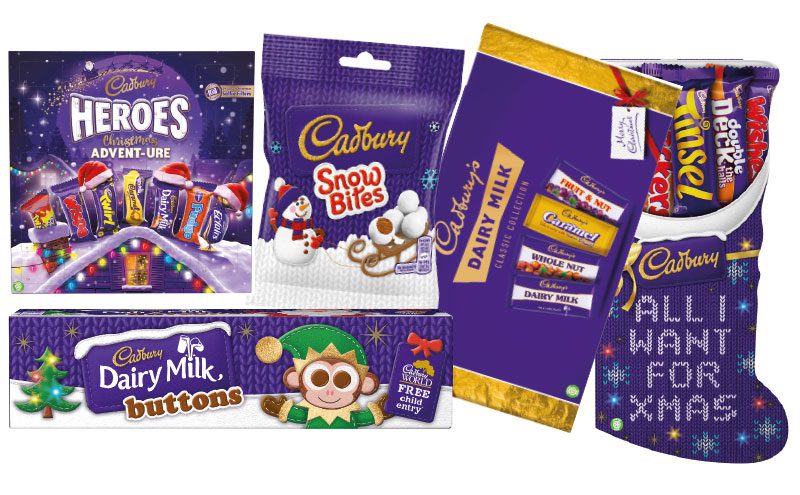 CADBURY parent firm Mondelez International wants Christmas to come early in the convenience sector this year, and the firm is encouraging retailers to get rolling with their festive confectionery offer from early October.
The confectionery giant says the biggest opportunity for convenience channel sales is in impulse, with shoppers already snapping up seasonal treats before the pumpkins have been thrown out post-Halloween.
From the start of October, Mondelez suggests retailers should stock Cadbury Snow Bites, which will now be available in a £0.60 RRP 43g pack in 24 packs cases; Maynards Bassetts Jelly Snowmen, a sharing bag of snowman shaped jellies available in 165g pack at an RRP of £1.32, as well as Cadbury Dairy Milk Snow Balls and Cadbury Dairy Milk Mousse Snowman Chocolate.
Once Halloween is out of the way, Mondelez recommends ramping up the festive cheer of the confectionery aisle further by stocking up on gifting products, suggesting that brands such as Heroes and Roses tubs, as well as Milk Tray, are well placed to meet demand for sharing pack and present formats.
New products for 2017 which Mondelez reckons should perform well from November onwards include a Cadbury Heroes Cracker – a twist on the traditional Christmas cracker, packed with Heroes chocolates; Cadbury Fudge Minis tube, which puts the Fudge brand in tube format and offers a free child entry to Cadbury World with every pack; and a new revised Cadbury Milk Tray pack with a double layer of chocolates inside.
[box style="2″]
October
In October start the countdown to Christmas with self-eats (Cadbury Snow Bites, Maynards Bassetts Jelly Snowmen etc.)
[/box]
[box style="3″]
November
Continue the countdown theme in November with advent and novelty sharing lines (Cadbury Heroes Cracker, Cadbury Fudge Minis etc.)
[/box]

[box style="2″]
December
The magic of Christmas is here, stock selection boxes, Christmas themed gifts family sharing lines and top up gifts.
[/box]
The firm will also roll out a range of revamped selection boxes, including a vintage-look pack aimed at older consumers, featuring individual bars in classic wrappers, which it reckons should go well with older consumers.
This year will also see the introduction of Cadbury biscuits to the Christmas portfolio, with edible tree decoration packs including Oreos for the first time, as well as a Heroes branded interactive advent calendar complete with daily Snapchat filters, shareable on social media.
Marketing support for the festive season will see Mondelez hit the road again in the run up to Christmas with its Cadbury Christmas truck, visiting towns and cities across the country inviting shoppers to provide a Christmas wish, with the firm planning to grant a selection of wishes over the festive period.
Further marketing activity for Cadbury this Christmas will include the return of the James Bond-esque Milk Tray Man.
This year's Cadbury advent campaign represents a £10m investment in the brand.
Mondelez also unveiled its phasing strategy for the core Cadbury range, which kicks off in September.
The firm advises retailers to begin stocking Snow Bites from September alongside traditional boxed brands Milk Tray, Roses and Heroes, before picking up Halloween stock in October, followed by a ramping up of Christmas stock in store from the start of November.