Haribo packs in Halloween costume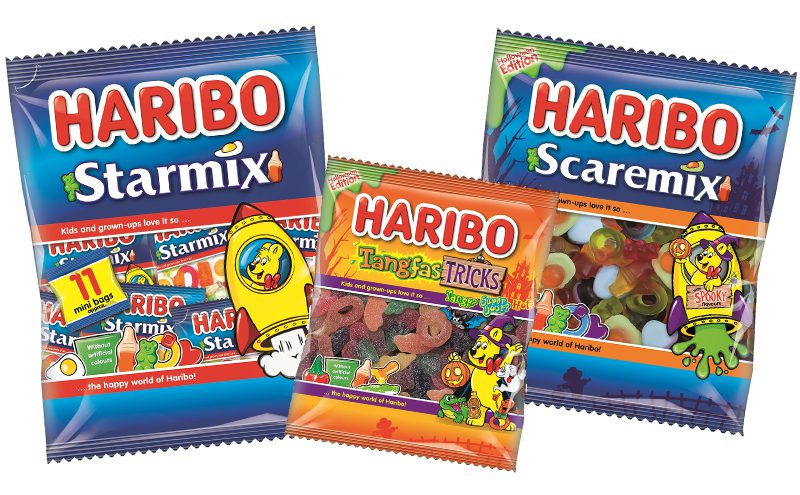 THERE is nothing scary about Halloween for the team behind Haribo as the brand gears up to roll out its seasonally ghoulish gummy range.
Haribo Scaremix and Haribo Tangfastricks both return this year, with a packaging revamp designed to make the limited-edition range stand out on shelf.
Originally launched in 2016, the Halloween packs are a seasonal twist on Haribo's Starmix and Tangfastics packs.
While each seasonal pack contains the familiar shapes found in the core year-round range, each has been subjected to a spooky makeover with new colours and flavours.
Within Scaremix packs, the Haribo egg has become a toffee apple eyeball, while the heart takes on darker colours with blackcurrant and bubblegum flavours.
Scaremix packs also include boo bears and Dracula rings, alongside a blood orange brew for the bottle shape.
Tangfastricks packs take the Tangfastic line-up and add some mischief to the mix with the introduction of hot and super-sour shapes.

While the majority of pieces in each pack will offer the same tangy taste as standard Tangfastic packs, one in three will be a trick hot or sour piece.
Both limited edition packs are available in 140g sharing bags at an RRP of £1.
Claire Caley, seasonal brand manager at Haribo UK, said there is "still a place" for themed treats, such as Scaremix and Tangfastricks.
"Scaremix and Tangfastricks, as an example, are a perfect addition to special seasonal displays that enhance in-store theatre to create key destinations within a store.
"This attracts attention and drives sales whilst offering shoppers a fun treat for sharing, especially for Halloween parties and gatherings," said Caley.
"Haribo is synonymous with Halloween. Our success stems from a range that combines core, all-year-round products with themed treats that shoppers recognise and trust to deliver for trick or treaters and for Halloween parties."