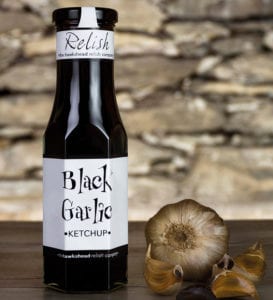 Consumers looking for something a little darker from their ketchup can now turn to the Hawkshead Relish Company thanks to the firm's latest launch.
Available to trade in 6x230ml cases at an RRP of £4.99 per unit, Black Garlic Ketchup is said to be created by baking whole fresh garlic bulbs for 40 days at a "very low" temperature.
Produced without any artificial flavouring, colouring or additives, Black Garlic Ketchup is free from gluten, nuts and is suitable for vegetarians.
Maria Whitehead, co-owner of Hawkshead Relish said the flavour of black garlic is "exquisite and relatively new" to the British palate, "although seen on some adventurous menus."

"We wanted to bring this tremendous innovation to the public in a way that it can be easily appreciated and enjoyed," she said.
"We've made it in a way that the unadventurous will just love the dynamic dip for chips, to those who will delight in its versatility in adding luscious flavour in cooking and preparation."