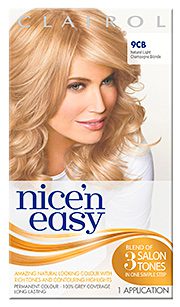 NICE 'n Easy, said to be the UK's best-selling home hair colour brand, is having a makeover this winter. Brand owner P&G is applying a new look across the brand's core range, in a bid to highlight its colours and encourage target consumers to try it.
On-pack messages have also been changed, P&G says the new versions better demonstrate how Nice 'n Easy's Colour Blend technology, which uses a salon blend of three tones, works.
Each Nice 'n Easy shade contains up to eight different dye molecules, which react to form different pigments, or colour complexes, giving the overall final colour impression, the firm says.
It means each shade deposits a blend of at least three different tones in hair, like salon formulas, but in a single step.
P&G says the new-look packaging tested well in pre-launch consumer research. To back the new look, the brand will also be supported by a money-back guarantee to be displayed in-store and in print and digital advertisements.