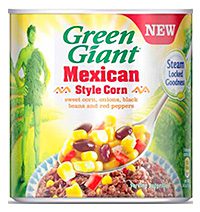 GREEN Giant is tapping into the trend for world cuisine and launching a Mexican Style Corn.
The 80g tinned product, a mix of sweetcorn, peppers, onions, black beans and lime, will encourage growth in canned goods, the brand owner says.
As well as the Mexican style line, Green Giant has also introduced Organic Salt Free corn.
In stores from late October, the new 150g pack replaced existing 198g and 340g cans of regular Green Giant Organic Sweetcorn.