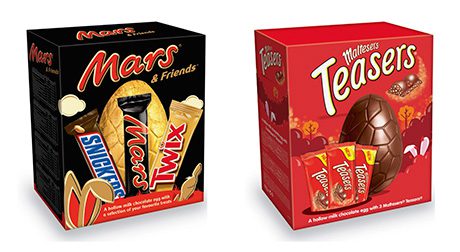 THE bunny with the malty touch is heading back from Mars in time for the Easter sweets season.
Mars Chocolate UK is taking its Easter range for 2014 to market and the Malteaster bunny along with new products from the Maltesers Teasers range, such as a large Teasers packaged egg, will figure prominently.
They're part of a wide range of traditional Easter confectionery that the chocolate manufacturer will supply from New Year and through the spring to the Easter holiday period in late April.
Mars has included medium and large classic branded eggs as well as updated luxury eggs in its range. And the company is also bringing back a selection of small items and boxed products, Galaxy Chocolate Caramel and Galaxy Bubbles filled eggs will hit the shelves again along with Minstrels and Galaxy Bars Easter Eggs.
There'll also be lines from M&M'S and Mars & Friends items featuring Mars Bar, Twix and Snickers.
The firm's Easter 2014 tips for retailers include:
• Make the most of seasonal opportunities by stocking up early.
• Expand displays and feature Easter Egg prominently.
• Keep shoppers of all ages and budgets in mind and make sure you have a range of Easter Eggs.
• Use secondary display sites.