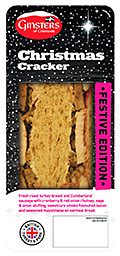 CORNISH sandwich company Ginsters has put all the flavours of the season into its sandwiches, pasties and pies so that even the busiest consumers can enjoy a Christmas dinner.
Launched on 6 November, the festive line-up includes greatest hits and new varieties. So the Festive Pasty – one of the company's best-selling special editions, filled with British turkey, bacon and cranberries, RRP £1.99 – is back.
New to the range is the Festive Bar, a festive twist on a popular regular line. The bar, RRP £1.69, is made of British pork sausage meat and turkey filled with a cranberry, onion and herb sauce.
They're joined by two festive-period sandwiches, in special seasonal packaging. The Festive Edition Christmas Cracker, said by the company to be its most popular limited-edition sandwich, is filled with turkey breast, Cumberland sausage, bacon and stuffing. It's topped with cranberry and red onion chutney, packed into oatmeal bread. The RRP is £3.49.
The second special edition sandwich, Cranberry, Wensleydale and Bacon, is a previous British Sandwich Association Sandwich of the year finalist. It contains crumbled Wensleydale cheese with cranberry, mayonnaise and bacon on malted grain bread. The RRP is £2.99.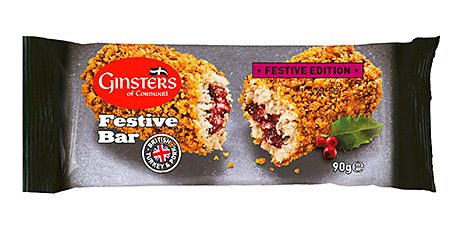 Linda Evans, sales and marketing director, said: "We are delighted to be launching such an exciting line up for the festive period.
"What makes it even more special this year is that we are donating 10p to the Royal Voluntary Service for every Festive Pasty and Festive Christmas Cracker sandwich sold. With our donation, Royal Voluntary Service will be able to deliver over 6,000 Christmas meals and good wishes to lonely older people in Britain this Christmas."