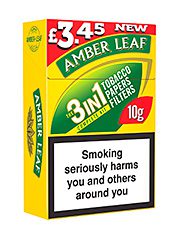 AMBER Leaf, the UK's biggest-selling RYO tobacco brand, is releasing its 10g 3-in-1 pack across the UK after brand owner JTI trialled the pack in Scotland, Wales and the south west of England in the summer.
The pack, which contains 30 filters, 50 papers and a 10g mini pouch of tobacco in a crush proof box at an RRP of £3.45, goes into wholesale and symbol stores from this month.
JTI says smaller packs of RYO tobacco are increasing in importance, with volume sales having grown by 300% year on year as smokers look to buy at lower prices.
Worth £1.9bn and accounting for 30% of the UK tobacco category, RYO is currently the biggest tobacco sector by volume, says JTI.