Popularity of tobacco PMPs gives convenience an advantage say some retailers. But others say 'no change'.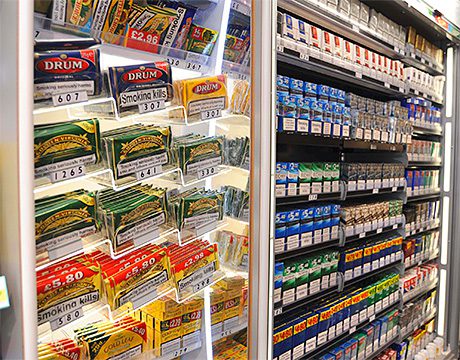 WILL Scotland's c-stores and CTNs see a boost in tobacco sales and other trade as a result of the supermarkets being forced to hide cigarettes and other tobacco products behind screens?
So far, in the earliest days of the supermarket ban, retailers have reported mixed outcomes to Scottish Grocer, some reckon they've seen a considerable effect but others reckon there's been little or no effect.
Stores in Scotland with trading areas of more than 3000 sq ft were required to ban the display of tobacco and related products at the end of April.
Small stores will have to follow suit in April 2015.
The supermarket ban took effect roughly a year later than the Scottish Government had intended. It was delayed by a series of legal challenges and appeals. It means the small stores have a two-year period when they can display tobacco and the grocery giants cannot.
One c-store retailer who reckons she has seen a big sales boost is Elaine McIntyre who runs an independent Spar store in Tullibody in central Scotland
"We are selling a lot more cigarettes than we used to. There has definitely been an increase and we definitely have new customers," she said.
She reckons the fact that she can display price-marked packs might be persuading smokers to shop at her store. She's also noticed more bulk buying.
"A lot of people come in and rather than buying 20 they are buying 100.
"The increase is good if they are buying other things at the same time but you don't make a huge margin if they are just buying cigarettes."
Robert Baillie, who runs Baillies News in Perth has also seen an increase in sales. His shop is close to a Co-op, which has had to cover up its display. He's also selling more of items other than tobacco.
Natalie Greggain, owner of Solo Convenience in Baillieston, Glasgow is another who has seen cigarette sales rise since the tobacco display ban but she says that has also brought challenges.
"I have spoken to my reps and at the time they had not received hard data but we felt the increase for independents and other convenience stores is due to people forgetting tobacco when they walk out of their supermarket after their weekly shop."
But Natalie highlighted the fact that the profit margin on cigarettes is small and the need to buy more stock has an affect on cash flow.
"We've been working closely with the cash and carry to manage credit to stay well-stocked. Being such a small but busy shop we need to keep our customers satisfied with availability. But it's a lot of money to hold stock with such a small return.
"When price marks increase people change which cigarette they purchase so that affects predicted sales for weekly deliveries."
But it isn't only a story of increased sales, some stores contacted by Scottish Grocer said there had been no difference since the display ban in supermarkets.
Stephen Carr, who owns Nisa Local in Stirling said his customers already recognised that his store sells cheaper tobacco than some supermarkets and buying patterns hadn't changed.
Tariq Ali from Coatbridge-based Calder Stores said his shop had also been quiet and actually reported a decrease in sales, although he still has regular customers who buy from him.
Colin MacDonald from Costcutter in Blairgowrie also said he had noticed no increase in sales. And he thought there were other things to consider in terms of the ban.
"It all goes down to saving the National Health Service money and I think it's a good thing," he said.
• What's your experience? Has the dark market boosted your tobacco sales? Contact Patrick Duffy on 0141 567 6074.
patrick.duffy@peeblesmedia.com
Image – Some small stores say they are seeing increased tobacco sales while they can still display tobacco but others have seen no positive effect.