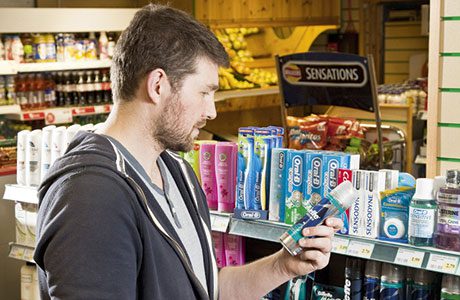 EVERYONE likes to be fresh and fragrant. Don't they? Personal care products form an  important category in many stores: no one wants to run out of toothpaste, shampoo or deodorant before an important meeting or a hot date.
While the average person restricts their grooming ritual to once a day, that still means they are squirting, skooshing and spraying seven times a week. The most zealous clean freaks, however, use toiletries 250 times a week according to ECTD Usage. That's an impressive 35 times a day.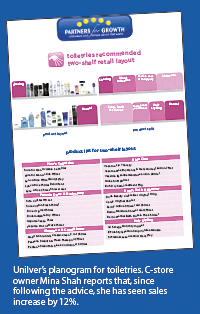 Despite the services offered by chemist chains and supermarkets, 34% of convenience store shoppers are looking for toiletries, Europanel reports. And they are valuable customers, spending £8.87 per trip compared to the average £5.24. They also tend to use the visit to top up on other grocery items.
So how to grab these sweetly-scented shoppers and persuade them to part with their cash? Unilever's Partners for Growth suggests several strategies: focusing on well-known names to attract brand-loyal customers; giving more space to best sellers than to speciality products; and separating men's products from women's, to save the chaps' blushes while browsing the aisles.
With the overall toiletries market worth £5bn according to IRI, there are several growth areas and trends to note. Women's deodorants are growing at 7% – with aerosols accounting for half of all sales.
Men tend to be more brand-loyal than women. They also spend more per product. Nine out of 10 men use deodorant, but only eight out of 10 actually buy it themselves.
Bath products are growing in the recession as people look for affordable treats. And dry shampoo is also worth considering. In 2010, 2% of households used it. By 2012, 12% of families had a can in the house for too-busy-to-wash days.
Tom Hazelden, Unilever's Partners for Growth controller, said: "Top-up purchases form a large part of sales, so simplicity and visibility are key to a successful toiletries fixture, to enable shoppers to find what they want quickly and easily. Unfortunately 18% of shoppers do not know that toiletries are sold in their local convenience store."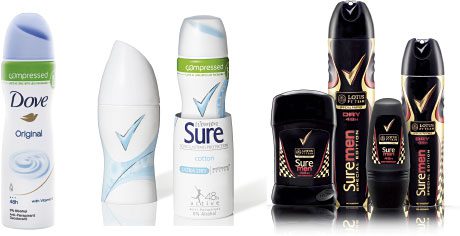 • The Gillette range accounts for 80% of the male grooming market, according to manufacturer Procter & Gamble. P&G's Paul Lettice, said: "As men become more attuned to personal grooming and aspire to look their absolute best, the male grooming category shows no sign of slowing down.  Retailers should have an up-to-date range of products for top-up and distress purchases of blades and razors, as well as accompanying shave care products. By stocking a clearly signposted range, retailers can encourage trading up."
IRI figures show that P&G's Venus range is the best-selling women's shaving product.
Lettice added: "2013 looks set to be a phenomenal year for Gillette Venus, with exciting new products and developments."
Haircare can also be a lucrative category in c-stores as shoppers often use their local store to grab last-minute essentials on the way home, P&G says.
And it reckons that while selling popular shampoos and conditioners is important, retailers should also stock styling products such as hairspray.
P&G has been busy on several haircare brands.
Aussie Miracle Shine features a shine-inducing formula of natural pearl powder and Australian ginseng extract, teamed with a cotton candy scent.
One of the group's biggest -selling brands – Wash and Go – was refreshed in 2012 and now offers, the firm says,  a great value-formoney proposition with a formula upgrade and new 200ml Solo pack.
The Pantene range has been upgraded, relaunched and restructured into three collections – Fine Hair, Normal/Thick Hair, and Coloured Hair.
And P&G's Head and Shoulders brand now offers a Scalp Care collection that's designed to sooth and calm all types of problematic scalps.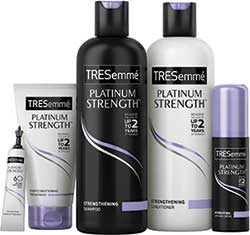 • One of the biggest changes in personal care products this year has come from Unilever, which has compressed its Sure Woman, Dove and Vaseline deodorants. The new smaller packs offer the same protection and last just as long as bigger cans, while containing half the volume of gas. They use up to 28% less packaging, take up less space on shelf and at the back of the store. The RRP remains the same.
For the fellas, Suremen's Lotus F1 range is part of the brand's three-year global sponsorship deal with the Lotus F1 team.
Last month's launch included an on-pack promotion with a motor racing trip to the south of France as top prize.
Haircare range TRESemmé's latest launch, Platinum Strength, is designed to appeal to women who want to restore the damage caused by colouring, blow-drying and  straightening their hair.
To help customers get the most out of the range, TRESEmmé has launched a series of how-to videos featuring its UK chief hair stylist Matthew Curtis. The videos are available to watch on the TRESemmé UK YouTube channel.