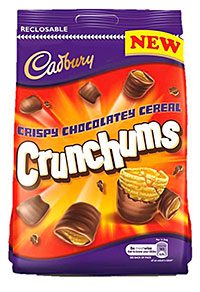 CADBURY has a new line in its bagged chocolate range. Launched this month. Cadbury Crunchums is, manufacturer Mondelez International says, "a one-of-a-kind, wonderfully moreish snack of crispy cereal bites, coated in Cadbury chocolate".
A £1.3m marketing push to support the new product will include outdoor advertising, sampling activity, public relations, social media, and digital campaigns and in-store promotions.
Crunchums joins Cadbury Popcorn and Cadbury Pretzels in the firm's bagged chocolate raange. Nielsen measures the bagged chocolate category as worth £378m and growing at 16.5% year-on year. It gives Cadbury brands a 26.7% share of the category.