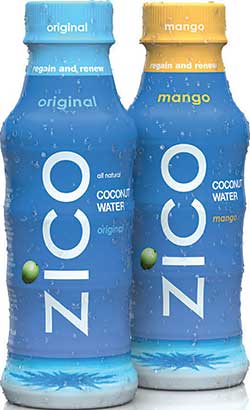 COCONUT water is one of the fastest growing beverage categories in the UK, estimated to be worth more than £100m by 2016. American brand Zico launched in the UK just over a year ago, in a bid to respond to what the brand owner sees as a trend towards natural alternatives to sports drinks.
Zico coconut water is produced from young coconuts harvested in Indonesia and Thailand.
"The UK market has definitely not been fully tapped into yet, said UK brand manager Shane Angus. "While education and awareness are growing, there is still plenty of work to be done and we believe there is significant growth to be experienced both for us and the category. Across the world we've already seen the rate of sale exceed that of the more traditional fruit juices."
The drink is packed in a sculpted, recyclable and re-sealable 400ml PET bottle. Zico is available in original and mango flavours.
• Juice Burst has three new flavours: Orange and Passion Fruit, Still Lemonade and Apple, and Rhubarb, with with more to come. With an RRP of £1.29-£1.49 it costs about the same as a fizzy drink but also provides consumers with one of their five a day. The Juice Burst range currently contains 14 variants.