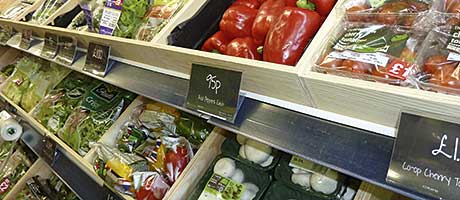 Good, well-managed fresh produce brings profit and boosts a shop's image. But it takes work. We look at how two retailers are responding to their own special challenges.

INCREASING the size of its produce section, making it colourful and visible to shoppers from outside the store, and introducing a good mix of loose and pre-packed lines has helped an Edinburgh city store significantly increase its fruit and veg sales – and become known in the area as a place to shop for fresh.
The Scotmid Co-operative store in Warrender Park, Edinburgh, was revamped, remodelled and modernised last year, and a significant part of the work involved the augmentation of the fresh produce area.
And the changes have had a positive impact on sales – they're up 50% and still growing said store manager Michael Shiels, who has been with Scotmid for 20 years and manager of the Warrender Park store since the beginning of this year.
Before the refit, fruit and veg accounted for around 8% of sales, but that's now grown to around 11%.
Fresh fruit and veg sits in the first aisle – to be visible to customers and potential customers walking by the door. The goods are displayed in plain boxes, chosen to let the natural colours and textures of the produce stand out.
There's a chilled section, which includes salad veg, berries, citrus fruit, stir fry and more, which sits next to ambient displays of potatoes, bananas onions an other goods.
"The section is very bright and colourful, and is designed to encourage shoppers to come in and take a closer look at the selection," said Michael.
"There's a greengrocer feel about the section now."
Salad vegetables are popular with student customers all year round but sales increase when the weather is sunny and warm.
There's been a significant move towards pre-packed in recent times, he has found.
The majority of veg in the section is pre-packed, but a small number of shoppers still want to choose produce for themselves, so onions, potatoes, carrots and leeks are also available in loose format.
It's important also to follow up customer requests for any fruit and veg that isn't on the shelf, he said. Bringing something in for a customer will give them confidence in the store.
So, how does the shop deal with the perennial problems of fresh produce – especially wastage?
The store has a 12% wastage allowance and that's currently running at 9%, helped by a careful ordering system and stock rotation. The system generates orders automatically taking into account actual and predicted sales, but you also have to allow for other factors like weather, Michael said.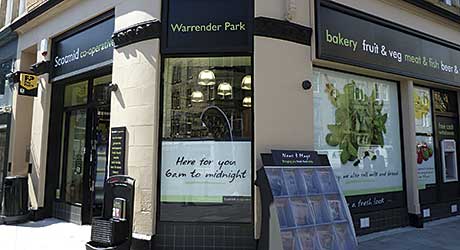 • What do you do with your fresh produce section if a 60,000 sq ft Tesco arrives on your doorstep?
In November last year, Aberdeen retailer Graeme Knowles chose to put up a fight.
Graeme accepted that his fresh produce sales might take a hit, so he decided to do something a little bit different.
His latest fruit and veg island – a free-standing unit positioned close to the fruit and veg chiller and used to display all the ambient fruit and veg – is no ordinary display. The bespoke unit, made by Darren Cruden and Cruden Contracts, looks like a tree – with its legs as a tree trunk and shelves as branches.
"We didn't want it to just be bog-standard shelving, we wanted to do something different to attract attention," Graeme explained.
"We've made the section slightly smaller but we've personalised it.
"It's got a rural, countryside theme and says something about the business."
The 1.5m stand features ambient fruit like apples, oranges, pears and bananas on one side, and vegetables such as carrots, onions, swede, leek, cabbage and cauliflower on the other. There are panels down each side for potatoes.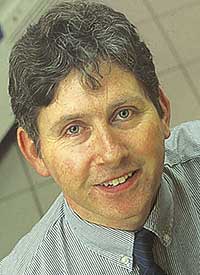 The nearby 1.2m chilled bay displays berries, lemons and limes, and salad veg, along with some pre-packed veg.
Until very recently, the store also featured loose produce but now it's pre-packed all the way.
The store has recently started working with a local butcher and he reckons consumers are now much more likely to pick up a pack of pre-packed veg after they've selected a piece of meat for dinner.
"We want to make things as easy and convenient as possible for shoppers," he explained.
"We're really just trying to maximise what the person coming in for the butchery products is going to buy. It's far easier for us to have pre-packed and shoppers are much more likely to pick up the veg."
Bananas are still the number one seller in fruit and veg overall. Bags of apples and oranges do well to
o, as do tomatoes and cucumbers.
Stock comes from Nisa Chill four times a week and Total Produce three times a week.
So what's the plan for fresh going forward?
Graeme admits that his fruit and veg sales have taken a hit, but as they currently make up around 5% of sales of the store overall, the section is an important part of the business.
"Our sales have dropped because of Tesco, but we're still getting healthy sales and are going to keep working at it," he said.
"We're just trying to do different things and to keep active with the section. It's part of our business and it's still working for us."