THE pouch format is now so popular that new confectionery varieties are being introduced as count lines and sharing bags at the same time. Two of Wrigley's key new products for 2013, Starburst Flavour Morphs and Skittles Confused, are available in both formats.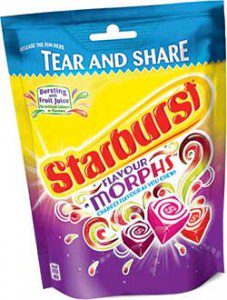 Both have the same gimmick: they change flavour mid-chew.
Starburst Flavour Morphs come in a 45g single stick pack and 152g sharing pouch. The flavours are strawberry to strawberry pear; cherry to cherry lime; and raspberry to raspberry pear.
The two other varieties of Starburst – original fruit chews and sours – are also available in the same pack sizes. RRP is the same across the range: 49p for the stick pack and £1.28 for the pouch.
Flavour Morphs have already been successful in the US and Canada; the UK flavours were chosen by consumers during product testing. The launch earlier this year was supported by a £3m TV and social media advertising campaign.
According to Matt Austin, European confections business director at Wrigley: "Research shows that consumers are looking for more than just taste and texture when choosing confectionery – they look for excitement and stimulation too. New Starburst Flavour Morphs offer just that."
Skittles Confused, which arrived on shelves at the start of the year, comes in a 55g bag and 175g pouch. The packaging was also redesigned, with the familiar rainbow turned upside down, as part of a £5m brand relaunch which included mass sampling and social media as well as TV ads.