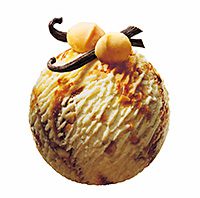 SWISS ice-cream brand Mövenpick has two new flavours for spring.
Macadamia Dulce de Leche takes its name from the unctious Portuguese confection made from slowly-boiled milk and sugar.
The ice cream has a vanilla base, caramel sauce and caramelised macadamia nuts. The texture is predominantly smooth, with contrasting chunks.
"The combination of macadamia and caramel is inspired by the cuisine of Oceania, where these ingredients are very popular," said Julia Jones, head of customer marketing for Mövenpick. "Their sweetness is offset by the vanilla base – an ingredient currently popular among chefs – made from Madagascan vanilla pods."
It is joined by a zingy lemon and lime sorbet, designed for the time of year when consumers look for fresher, lighter flavours.