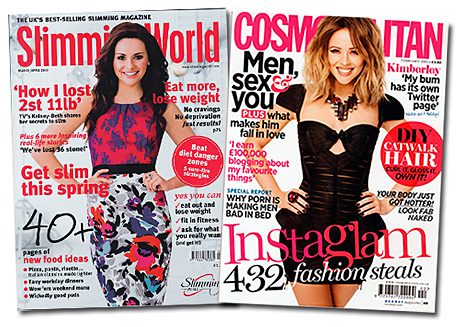 CALORIE-counting readers made Slimming World magazine the flavour of year on news stands in 2012.
The monthly dieting mag saw its sales rise 11.2% year-on-year – the only title in the Audited Bureau of Circulation's Consumer Magazine Report's top 10 to show an increase.
The top three titles – the listings-based TV Choice, What's on TV, and Radio Times – all saw their circulations drop.
Trends in the top 50 could reflect the aging character of readers of printed products. Saga magazine was the fifth best seller. Good Housekeeping, Chat, Woman & Home and Woman's Weekly, all offering a traditional mix of recipes, fashion and features, performed relatively well last year.
New!, however, might be starting to feel a bit old, after sales dropped 21.1%.
Younger women's fashion and beauty titles continue to lose actively purchased circulation, though some now have growing on-line products.
The top-selling Glamour was down 8.9% on 2011, Cosmopolitan dropped 17.5% and Grazia lost 11.4%.
Celebrity culture mags suffered once again.
Closer, lost 15.6% of its circulation in the year covered by the results.
The once very popular Heat magazine continued to drop down the chart, from 18 in 2011 to 24 in 2012.
For young readers, Moshi Monsters Magazine was the best-selling comic, showing a substantial 40.4% growth from the previous year.
While some home design mags did fairly well in the earlier years of the recession 2012 proved tougher in that category.
And many current affairs magazines, which had held up well in recent years, were also down.