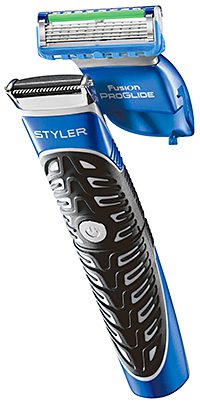 FOR some men shaving may be a daily task, maybe even a chore – part of the basic grooming activity that ensures they look acceptable to the outside world.
Essentially they want a shave to be quick, effective and safe. But to others shaving is an opportunity to sculpt their image and make a style statement with moustache, beard, sideburns, goatee, stubble – or any mix of the above.
Chances are retailers will have customers of each type.
Last year razors and grooming giant Gillette introduced a new shaving system designed to meet just about any task a facial hair grooming bloke could throw at it.
To put it a little more technically the P&G-owned brand describes the Gillette Fusion ProGlide Styler, as its first "3-in-1 precision grooming tool for men who style their facial hair".
It uses Braun-engineered power trimmers, with three combs for custom lengths, as well as Gillette's own most advanced, low-resistance razor blades developed for the Gillette Fusion ProGlide Power Razor, and its streamlined Snowplough Comfort Guard, which helps maintain optimal blade contact while stretching the skin for a close, comfortable shave.