Businesses say spend a fiver and build your town's economy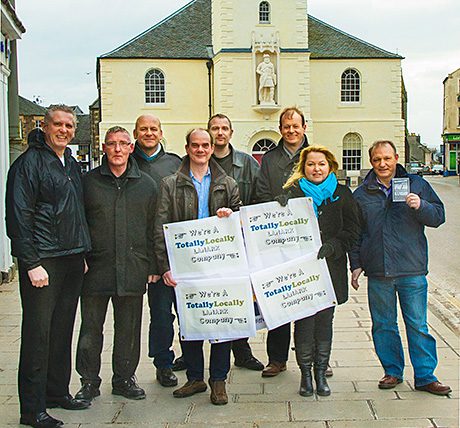 CONSUMERS in a Scottish market town are being urged to think local, buy local and spend £5 more each week in ways that will help their local area's economy thrive and survive.
Retailers and other independent businesses in Lanark are about to follow the example of Helensburgh and communities south of the border by launching a Totally Locally campaign.
Totally Locally Lanark will not only urge members of the public to shop locally, but will also work to improve communication, co-operation and collaboration between independent businesses in the town.
The programme is being organised by members of Lanark Business Group, a forum made up of 12 Lanark businesses. Lanark retailer Wilson Rea reformed the group six months ago – after a gap of around eight years. His Nisa Local store will be involved in Totally Locally Lanark.
"It's about rejuvenating local businesses and encouraging local people to come back and keep shopping here, instead of going to the supermarket," he said.
"We want communication between retailers to become the norm and for local people not to have to think about where they shop."
Totally Locally schemes began down south after marketing guru Chris Sands noticed local businesses working for each other while on holiday in Portugal.
He pitched the idea of Totally Locally to Calderdale Council in West Yorkshire. Around 20 towns across the UK now run their own Totally Locally campaigns.
In Lanark,
local businessman Jim McCreadie, owner of Clyde Valley Pet Retreat, suggested it to Lanark Business Group.
"The concept is about trying to remind people about, and to celebrate local independent businesses," said McCreadie.
"It's about changing the mindset. We have to have a good core to the town, and for it to act as a barometer for the town itself."
At the time Scottish Grocer went to press, 80 local businesses had expressed interest in getting involved in the Totally Locally Lanark push.
The campaign will launch on 20 April with a day of entertainment including a family treasure hunt, a street magician, dance performances, live music, a market and a photo competition.
And as an incentive to shoppers, businesses will also be taking part in Fiver Fest – offering consumers £5 deals on everything from food and drink and hair cuts, to financial advice and gifts. Fiver Fest will run for two weeks.
The Fiver Fest programme is designed, Rea explained, to get the message across to consumers that if each of the 7,500 people in Lanark were to spend £5 more each week in a local independent business, almost £2m would be added annually to the local economy.
Lanark-based Border Biscuits, is putting in £2500 to cover the cost of point of sale material for stores and for posters.
More info – www.totally-locally-lanark.co.uk
Image – Members of Lanark Business Group launch Totally Locally Lanark.