Third generation family members take roles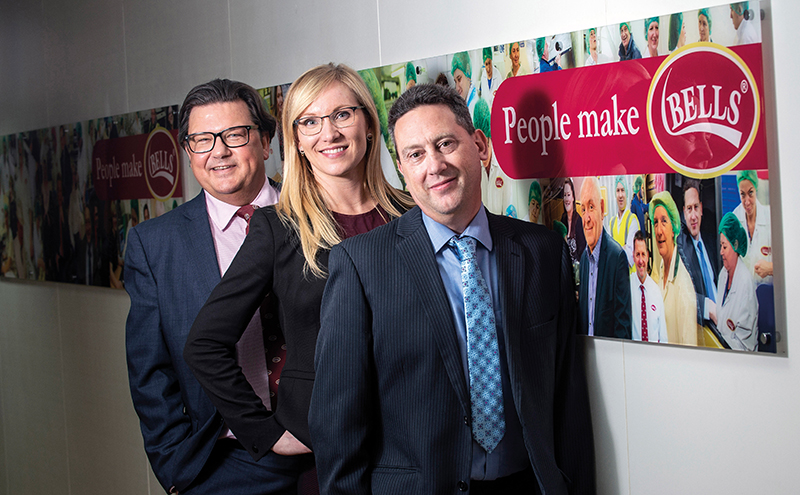 PIE and pastry manufacturer Bells Food Group has made a number of appointments to its senior team as part of a period of growth and expansion for the brand.
Third generation family members David M Bell, logistics director and Samantha Murray, finance director, join the corporate board along with Gordon Smith, sales and marketing director.
Debbie Briody has joined the company from Highland Spring as group operations director.
David M Bell has worked in the family business for over thirty six years from helping out during school holidays, joining the van delivery team in 1982, to his appointment as logistics director.
Samantha Murray began her career in financial recruitment, however she was soon drawn to the family business.
Eleven years after joining the company and working in various roles, Samantha has been appointed as finance director, a position previously held by her grandfather and father.

Gordon Smith joined Bells in 2015 and has over 20 years' experience in the food and drink industry in sales, marketing and senior commercial roles.
Debbie Briody is a chartered chemical engineer and has an MBA as well as 25 years' experience in manufacturing primarily focused in the drinks industry.
Bells MD Ronnie Miles said: "We are delighted with our new senior appointments and they signify a real step change for the business, as we build capacity and expertise at a senior level to continue our expansion and innovation plans.
"Appointing two members of the Bell family to the corporate board is an absolute honour and both David and Samantha will help secure the success of the business for future generations.
"Gordon and Debbie bring a wealth of experience to the company and will help us grow and develop the business even further."