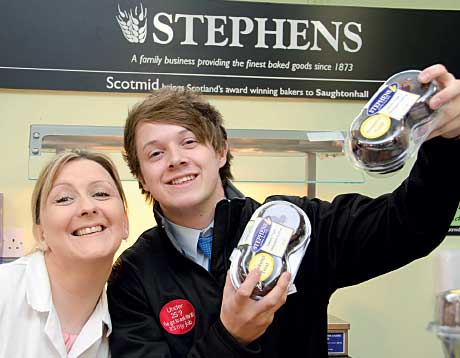 Scotmid is busy joining forces with a raft of local bakery firms across Scotland. Avril Cadden found out if the suppliers and the client are rising to the occasion.
FEW things more readily entice a consumer to buy, than the smell of fresh baking. The bread magic is something Scotmid is incorporating into its stores through partnerships with well-known bakeries around the country.
So far the firm has set up partnerships with five Scottish craft bakers, displays are in 32 Scotmid stores, and the company plans to roll out the partnerships to 100 stores this year.
Firms already on board include: Stephens the Baker, Dunfermline; Goodfellow & Steven from Dundee; JG Ross in Inverurie; Aulds the Bakers in Glasgow; and Stuart's of Buckhaven. And in Edinburgh, Scotmid has also added the artisan Breadwinner Bakery to its stable.
Stephen Brown, Scotmid's bakery and local sourcing manager said: "All the bakers mentioned have won numerous awards. They are well-known names and brands in the areas where they trade.
"We have to invest a lot in staffing and training and we have to make sure that we are as committed as the baker is to making this partnership work. It has to work two ways."
"It is something we are learning and something the bakers we have taken on board are learning. All fresh products come with challenges, you just have to work with them."
"But the customers enjoy it being there. It gives a different dimension to the store."
Bakery partner Goodfellow & Steven in Dundee now has a presence in seven Scotmid stores, (six in Edinburgh and one in Dundee), it hopes to be in around 20 Scotmids by the end of the year.
Managing director, Don Henderson has dealt with other firms, including multinationals. But the relationship with Scotmid is different, he reckons.
"What they've got absolutely right is that they are putting a lot of resource into this. There's a huge commitment from the Scotmid side, and from our side also," he said.
The family baker has been operating since 1897 and has 19 shops. But Don admits that there have been difficulties at times. Small bakery shops are seeing footfall driven out of the high street and into out-of-town shopping centres.
"The partnership gives us exposure to a far bigger customer base," he said.
For the Goodfellow & Steven workforce, (180 staff, around 60 bakery-based and 120 shop-based) the Scotmid partnership has improved job security. The bakery is now looking to employ and train apprentices.
And there are knock-on effects elsewhere.
Hot savouries play a large part in Goodfellow & Steven's Scotmid partnership. Very quickly, the Dundee company found itself doubling sausage roll and pie production. Local butcher, Scott Brothers in Dundee is benefitting, as is a the farm, that supplies the butcher.
The company uses one farm for all its strawberries; this year the order has doubled.
Half of Scotmid's trade takes place from 5pm to 10pm. Now the bakery company makes products over an 18-hour period.
Henderson said: "We have to work on that together. Remember most of the products we sell have a one-day shelf life.
"But the consumer can now get fresh bakery produce in their local supermarket and every bakery that is in there is proud to produce quality products."