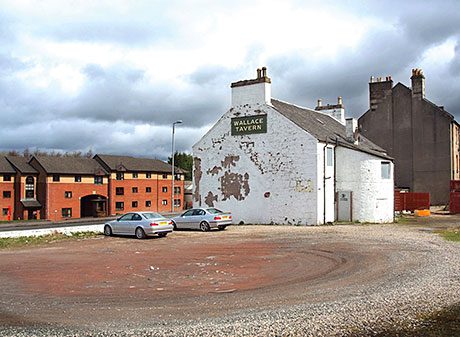 Wallace birthplace to see new c-store
A PLANNED new convenience store in the town that's said to have been the birthplace of Scottish hero William Wallace has won the right to sell alcohol – despite major opposition from residents who say they fear trouble in the village if another licensed outlet opens.
An application by Amardeep and Mandeep Dhaliwal for a licence to sell alcohol until 9pm Sunday to Thursday, and until 10pm on Friday and Saturday, in a shop to be opened on the site of a failed pub in the town's Main Road, was granted by Renfrewshire Licensing Board.
The Wallace Tavern closed in the summer of 2011. The unit, which has a beer garden at the back and a sizeable car park, has already been granted planning permission for a change of use to retail, and for a one-storey extension.
More than 100 villagers objected to the licence application.
The village, close to Johnstone, with a population of around 5,000, and which has seen significant housing development in recent years, currently has a licensed c-store, a pub, two restaurants and a bowling club.
Objectors have argued that there is sufficient licensed provision in the area, that an off-sales that closed some time ago had attracted youths and that a local railway bridge currently sees episodes of youth drinking and disorder.
Alice Robb, who chairs Elderslie Community Council said: "We do not need another off-licence in the village.
"We already have a shop nearby. The owner has been here for 20 years. He has watched the children grow up and have families themselves. He regulates what he sells."
A council spokesperson told Scottish Grocer: "Renfrewshire Licensing Board granted an application to vary the existing licence of the former Wallace Tavern pub in March. The owners had already received consent to change its use from a pub to retail units with an extension. This was granted, subject to conditions relating to noise levels, in November 2012.
"A number of letters of objection were received from the community, and the board took account of all factors before deciding to grant the application," he added.
Scottish Grocer attempted to contact the applicants but was unable to do so.