Today Scottish Grocer brings you its most comprehensive listing and analysis of the most important drinks brands in the Scottish off-trade to date.
Using statistics supplied by the leading market research firm Nielsen we list the top 50 mainstream brands overall, the top 50 brands in the important spirits sector, top 15 listings in a range of key sub-categories in beers, wines and spirits and a top 10 of key brands to watch – the fastest growing drinks brands in Nielsen's top 50.
Across all of Scottish off-trade, and throughout Scotland, these are the brands that consumers have been grabbing from supermarket, c-store and off-sales shelves. Check them out and see if they could play a major part in your store's range.
[hr_dotted]
A year of living dangerously?
LAST year – 2012 – was always going to be an interesting time for off-trade drinks sales in Scotland. We expected to learn more about the long-term effects of recently introduced restrictions on alcohol marketing in stores in Scotland, especially the ban on discounted multibuy promotions. We looked on with interest as new sub-categories developed and brand companies large and small embraced new flavours, new styles and the opportunities that appeared to be offered by consumer demand for pre-mixed products.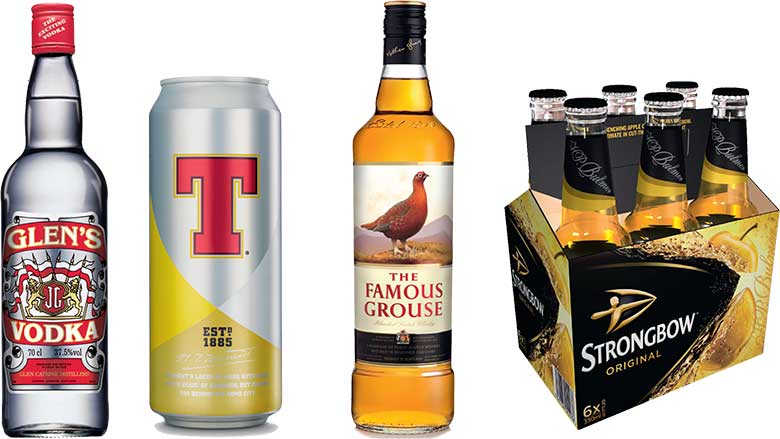 Scotland's biggest off-trade brands in the different drinks categories held on to their positions last year. But while some saw sales grow others saw sales value drop. In other parts of the market premium and craft products appeared to do well.
And 2012 did indeed turn out to be an interesting time on Scotland's drinks shelves. In 2010 and 2011 the Nielsen research figures showed some dramatic swings and some intriguing examples of growth and decline. But it's probably fair to say the trends were fairly uniform especially at the top end of our exclusive "most valuable" 50 off-trade brands table. But 2012 was different. While the top brands retained their positions at the head of their various categories some showed significant increases in sales while others registered significant declines. It certainly wasn't a year for brands to be comfortable.
The top 50 is of brands that appear on the Nielsen index. That includes most brands but some with significant strength in particular local areas (such as Buckfast for example) may not be on the list.
The Nielsen sales information can be very important for retailers of all types and sizes as they decide on which brands to highlight on their own shelves – in order to appeal to consumers.
And equally important for retailers is the knowledge of up-and-coming brands and styles of drink.
This year we provide more information than ever on the sales trends in individual off-trade drinks categories in Scotland with top 15 listings in everything from vodkas to ciders
and from whiskies to wines.
Examine the ales section of our top 15s, for example, and you'll see some well-established brands continuing to dominate the segment but with sales under pressure. At the same time a number of Scottish craft ales are growing sales impressively.
Look at wine and you'll find that once again the new world wines under the big brand umbrellas (which dominate the ranges in many c-stores, of course) clearly led sales. But total sales for many of the brands were down and it looks as though a number of wines from Chile and Spain have been doing very well.