Sustainable Retailer of the Year
CRITERIA :
[hr]
Retailers should think carefully about the impact they have on the environment. Having a well-thought-out and implemented sustainability programme will mean the business will spend less, will reduce its carbon emissions and will gain reputational benefits with consumers who are showing increasing awareness of environmental issues.

In the Sustainable Retailer of the Year award judges will be looking for:
• A clear commitment to good sustainability practices.
• Use of energy-efficient equipment and materials in the store.
• Best practice in minimising packaging waste and in recycling to minimise amounts sent to landfill.
• A scheme to control the use of carrier bags and to encourage use of long life and recyclable bags.
• Best practice in avoiding food waste in the fresh and chilled foods sections of the store.
• Where appropriate, the supply of recycling facilities to consumers for items like batteries, metals, glass, plastic and paper, or giving customers advice on reducing waste.
• Engagement with services and training provided by specialist organisations in sustainability and recycling.
• Support for local recycling and sustainability initiatives.
SPONSORED BY :
[hr]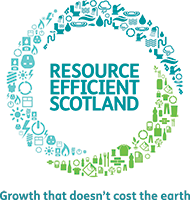 Resource Efficient Scotland is a new Scottish Government-funded programme delivered by Zero Waste Scotland to help businesses and organisations in the public and third sectors save money by using energy, water and materials more efficiently.
www.resourceefficientscotland.com
0808 808 2268
@ResourceScot

[btn link="https://scottishgrocer.co.uk/awards-entry-form/" color="red" size="size-l" ]Enter now[/btn]