Champion of Beer Award
CRITERIA :
[hr]
Shopping in local stores is on the increase. Home entertaining is growing and the world's top sports stars are now live on TV almost every night of the week. It all adds up to a huge opportunity for convenience store beer sales. But retailers will only make the best of the opportunity if they give the consumer quality beer, chilled to perfection, and ready to drink as soon as they get home.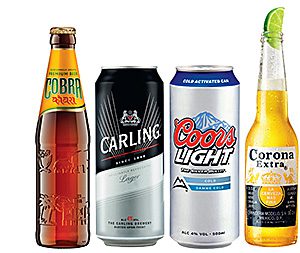 The judges will be looking for:
• Excellent positioning of beer chillers and off-shelf display stacks that provide an easy-to-find and easy-to-shop beer area.
• Excellent provision of perfectly chilled beer that's suitable for immediate consumption.
• Good understanding and use of POS materials and other marketing tools that highlight the advantages of cold beer.
• Good use of promotions designed to encourage sales of cold beer for home entertaining.
• Clear communication of the prices of the store's various beers.
• Good knowledge of beer and beer trends in the local area.
SPONSORED BY :
[hr]


Molson Coors Brewing Company is Britain's biggest brewer, with a diverse portfolio of brands that includes the UK's biggest selling lager, Carling, as well as Coors Light, Cobra and Grolsch. Molson Coors wants to help convenience retailers boost sales and profit by making the most of the opportunities that cold beer and off-shelf displays can bring.
Molson Coors' specialist team travels across Scotland to give advice on how to display, price and promote beer to maximise revenues. Together with the facts, figures and industry insight Molson Coors is working with its partners in the convenience sector to increase sales of cold beer and strengthen the whole beer category.
This award aims to recognise those within the industry that strive for excellence in how they sell beer in their store. We are looking for retailers who use chiller and off-shelf space, merchandising skills and consumer communication to deliver all the delights of beer!
[hr]
[btn link="https://scottishgrocer.co.uk/awards-entry-form/" color="red" size="size-l" ]Enter now[/btn]